Presuming that SUVs and luxury cars are taxed at the peak rate of 28 percent and 15 percent cess under GST, there is a marginal reduction from the current taxes.
In about a month or so from now, the Goods and Services Tax (GST) rates applicable on various goods and services will be known, before it is rolled out from July 1, 2017 as planned. The apex decision-making body, the Goods and Services Tax (GST) Council, capped the cess on luxury cars at 15 percent at its recent meeting. This makes it clear that the maximum GST on luxury cars would be 43 percent.
Will this be a win-win for both buyers and car makers? Probably yes, according to Nomura analysts.
"In our view, the likely rate applicable for automobiles is expected to be 28 percent, while that for tractors may be around 12 percent. Further, the government has capped the cess for luxury cars at 15 percent. This has potential to bring in some savings for large car and SUV categories as the effective tax on them is higher than 43 percent," Kapil Singh and Siddhartha Bera, analysts at Nomura Financial Advisory and Securities (India) Private Limited, or NFASL, said in their note recently.
"Since GST has a clause for anti-profiteering, these savings would be passed on to customers," they added.
If the new tax rates indeed turn out to be as expected, this could benefit many car-makers, especially Tata Motors, Mahindra, Hyundai Toyota Kirloskar Motor (TKM), in the form of better pricing capacity, according to the analysts.
However, all depends on the definition of 'luxury cars,' in addition to the approach of state governments who can tweak registration and other charges, raising the price at the retail end.
In India, taxes on cars are levied on the basis of length and engine capacity.
TKM's SUVs include Fortuner, Land Cruiser Prado, while Hyundai's models in the category include Creta and Santa Fe. Mahindra & Mahindra sells Bolero, Scorpio, XUV500 and Xylo in its SUV range. Maruti Suzuki's offerings in the SUV segment include S-Cross and Vitara Brezza. Tata Motors sells Safari, Hexa and Xenon XT in the SUV segment.
Luxury cars are mostly sold by Mercedes-Benz, BMW, Audi, Volvo, Rolls-Royce and JLR in India.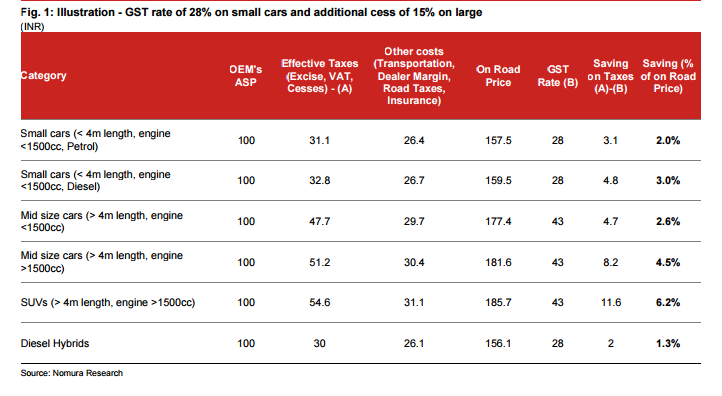 India is one of the largest automobile markets in the world. For the first 11 months of the current fiscal ended February 2017, 20 million vehicles were sold in the country, while 3.17 million units were exported.
The implementation of the GST is only a few steps away and many stakeholders, people, analysts, businessmen and investors are keenly awaiting the fitment details (goods and the rates applicable).
The GST has already approved four tax rates — 5, 12, 18 and 28 percent.
Of the companies mentioned above, Tata Motors, Mahindra and Maruti Suzuki are listed on Indian stock exchanges.