Along with the BJP's 53 MPs, those who support the Bill account for over 55 per cent of the currently 243-member strong Upper House — two seats are vacant.
MOST regional parties, barring J Jayalalithaa's AIADMK and Mayawati's BSP, adding up to 82 members in Rajya Sabha, fully support the government's Goods and Services Tax (GST) legislation.
The Indian Express spoke to almost all parties with more than two members in Rajya Sabha to get a sense of which way the wind was blowing on the Constitutional Amendment Bill for GST. And what emerged was that along with theBJP's 53 MPs, those who support the Bill account for over 55 per cent of the currently 243-member strong Upper House — two seats are vacant.
The parties on the government's side, when the Bill is introduced in Rajya Sabha, include Trinamool Congress, NCP, SAD, SP, JD(U), TDP, TRS, Shiv Sena, BJD and RJD(see chart). The Left parties — CPI(M) and CPI — do not oppose GST, but want issues relating to fiscal autonomy of states to be addressed by the government through an all-party meeting.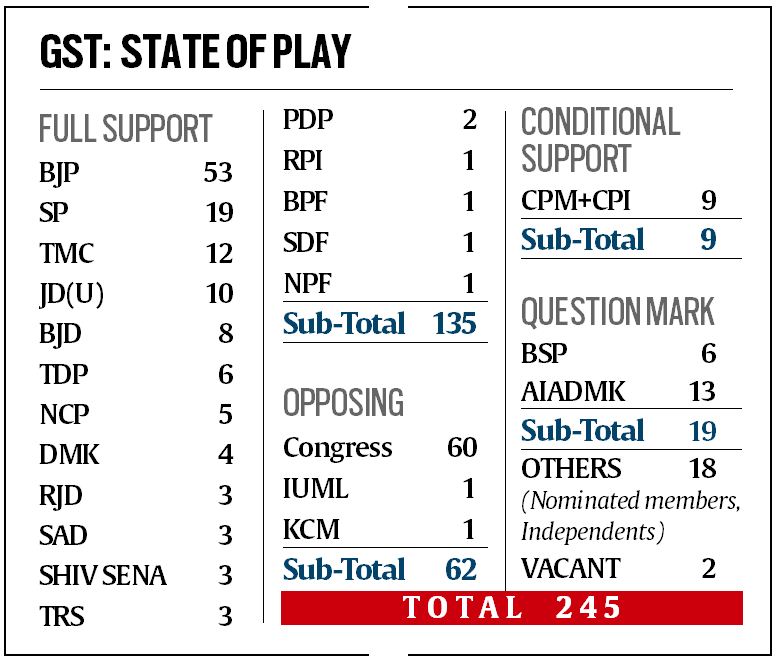 However, the AIADMK has put forward a number of conditions for support. The BSP, which had earlier declared unconditional support for GST, may now rethink its support following the recent remarks made against Mayawati by an Uttar Pradesh BJP leader and the attack on Dalits in Gujarat.
BJD's Lok Sabha MP Bhartruhari Mahtab said that though his party favours the Bill, it will move an amendment in Rajya Sabha demanding that mineral-bearing states, too, be allowed to impose an additional cess similar to that proposed for manufacturing states. "We are in favour of the Bill, we support it," said Mahtab.
As for NDA allies, T Devender Goud, Rajya Sabha MP of TDP, said, "If it benefits the country, we will definitely support it." SAD spokesperson and Lok Sabha MP P S Chandumajra, said, "We only had one concern, that there should be a clause to protect state businesses from any adverse impact for five years. It would be better to extend that to 10 years. But we support the Bill. It is beneficial for the country and states," he said.
Shiv Sena's Sanjay Raut, a Rajya Sabha MP, said, "There is no opposition to GST. We have submitted a memorandum on our demands to the government. But the BJP wants to pass GST by talking only to the Congress. They need to talk to allies like Sena and Akali Dal, either through an all-party meeting, a meeting of NDA constituents or one-to-one. Issues like abolition of octroi, a major revenue earner for Mumbai, needs to be addressed."
Bihar Chief Minister and JD(U) leader Nitish Kumar has already tweeted his support for GST. JD(U)'s ruling ally RJD, too, said it was not against the Bill. Jayprakash Yadav, Lok Sabha MP of RJD and former Union minister, said, "There should be provisions to take care of the interests of poor states like Bihar."
The TMC said GST had been part of its last four manifestos. "We have consistently supported it because we believe it is good for the country and the states. When BJP was in opposition, it blocked GST. Now Congress is doing the same. The country cannot afford to see people play ping pong," said TMC's Rajya Sabha MP Derek O'Brien.
Making it clear that Mulayam Singh's SP was with the government, its Rajya Sabha MP Naresh Agrawal said, "We want the government to address two main concerns: the GST rate should not go above 18 per cent and we oppose the one per cent additional tax."
NCP leader Praful Patel said that most states were on board. "On the GST issue, our stand remains clear that it is in the interests of the country and is a legislation proposed by the UPA. I am sure certain glitches can be sorted out as we progress. It is advisable at this stage to pass it."
TRS leader K Keshava Rao said Telangana's ruling party was behind GST. "We have discussed VAT and got it. We are supporting it," he said. A DMK leader said his party had some reservations, but would not stand in the way of the Bill.
CPI(M) general secretary Sitaram Yechury, however, expressed the fear that a state will not have the right to impose a surcharge or a cess or a tax to raise resources even during natural calamities. The party also has concerns over the composition of the GST Council, and believes that the Centre will have absolute power in deciding tax proposals, given its structure prescribed in the Bill.
It wants the weightage of the Centre in the council be reduced to at least one-fourth of the total votes cast (one-third now) and that of states to be increased to at least three-fourth (two-third now).
AIAMDK, in a charter of demands presented to the Prime Minister on June 14, said it objected to the provision of a GST Council and instead favoured the existing mechanism of the Empowered Committee of State Ministers. It also demanded a constitutionally mandated independent mechanism for full compensation of revenue losses for not less than five years.
But government managers claim they are comfortably placed when it comes to numbers. Many nominated members and independents are with the government on the crucial reform bill, they claim.
"We have 160-plus members supporting the legislation," said a government functionary, who did not wish to be named.
Source: http://indianexpress.com/article/business/economy/gst-bill-support-monsoon-session-parliament-lok-sabha-rajya-sabha-bjp-modi-govt-2928642/