"If there is proper debate in parliament, followed by a vote, then even without the Congress' support, we have a chance to pass it," says Union Minister of State for Finance, Jayant Sinha.
Union Minister of State for Finance Jayant Sinha (bottom, left) said that his government is close to the crucial 160 mark to get the Goods and Services Tax bill passed in the Upper House of parliament, the Rajya Sabha, where it has been stalled for more than six months now.
Speaking at a program 'Assessing the Progress and Promise of Economic Reform in India' organised by Milan Vaishnav, an associate in the South Asia Program at the Carnegie Endowment for International Peace, in a Google Hangout program that was also attended by Sadanad Dhume, a resident fellow at the American Enterprise Institute, Pranjul Bhandari, chief India economist at HSBC, India, Sinha observed that "the GST bill is the 122nd Constitutional Amendment, and not a bill that can be passed through a simple majority, or through a joint session of Parliament. This is a Constitutional Amendment that will require two-thirds majority in the Rajya Sabha.
"Now, our sense is that if it were to come to a discussion and a straight vote, and even if the Congress voted against it, we still might be able to pull off a two-thirds majority. As you know the Congress has about 60-plus seats out of 243 and so a two-thirds majority would be about 160-odd people, to approve it, and I think we are close to those numbers," Sinha told the gathering while replying to a question from Vaishnav.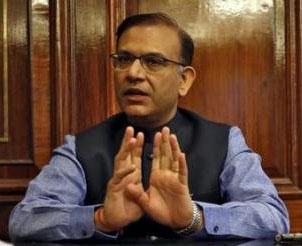 Sinha added that a vote after a meaningful debate can help his government pass the GST bill in the Rajya Sabha.
source: http://www.rediff.com/business/report/gst-can-be-passed-even-without-the-congress-jayant-sinha/20151209.htm